Leadership skills in Whatsapp Group Admin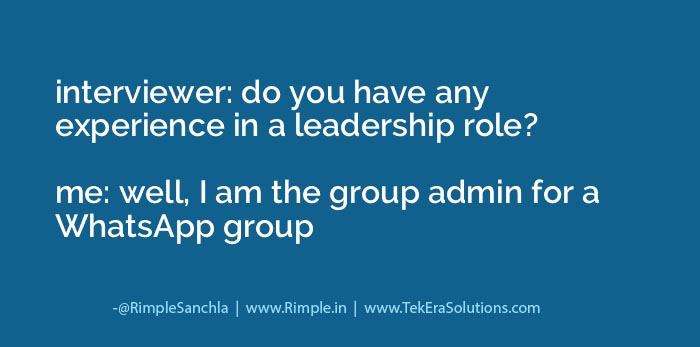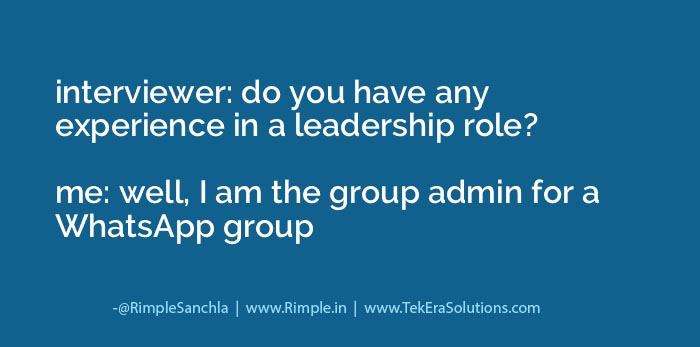 While we talk about the leadership, the persona having capabilities to transform the vision, in reality, taking all teams along with him, becoming a guiding light, motivator all the time to reach the final goals. We never thought earlier about the comparing and taking an example of leadership qualities before on Whatsapp Group Administrator. The following write-up is inspired by few WhatsApp group where I am an admin as well as my day to day experience of being an Entrepreneur.
Vision: Creating a group on a certain theme and make it successful is a vision of the Group Admin, and he or she makes it happen by having a thought in mind first. Certain people create a group on the theme of School members, college students, certain company members or some industry altogether. Some groups are of special interest or like-minded people who wish to exchange ideas on very prompt medium. Have read somewhere that the first ingredient of success is to dream a great dream and if you can dream it, you can do it. Our leaders are also visionary and they led us to some goals and achievements.
Establishment: People need courage and a strong commitment to establishing something new, on which they are not sure about the clear-cut goals and guidelines. Group admin creates a group by having certain thoughts in mind, like from what will be a theme, first conversation, who will be group members, from where he or she will get those number and etc etc. The small things matter, micro-planning required, even if you are at top level being a leader. The planning while and before establishment makes the leaders confident and makes him aware of the potential problems lie in the path. The foresight will help teams to find a solution.
Selection / Recruitment :
Selection of members in Whatsapp group is also a very important task since the activeness of group and members lies on this criteria. Even in some cases where the count of members increases above 50, Admin needs to select some inactive members to remove and add new aspirants in the group. What exactly the Admin does in this process. Selection of suitable member and add them in a Group, Monitoring of Performance ( Activeness, effectiveness, and Value) of the group members. Take the decision to remove and add new members. Same is happening in the Corporate world. In today's scenario, the Corporate is totally Performance driven and an employee is rated, graded, awarded and terminated based on the performance.
Policies :
Whatsapp group Admin admin generally makes and helps others to break the rules either way. I have seen certain Admin, who restrict members by posting unwanted material, photos or contents on racism which may not generate a healthy discussion. It is a leader who decides how his group will behave. In certain groups there are only light contents will be forwarded whereas some groups are so active where they discuss technology, job opportunities, current affairs which adds value to your knowledge.
Conflict Resolution :
Many members have a difference of opinion with others still they are active participants and who make the group alive, it is a leader who keeps them alive and encourages them to talk and share their views whereas applicable. In some of the cases, Admin becomes intermediator to resolve the difference of opinion and drive the discussion to some other fruitful directions.
We never notice such leadership skill but it is everywhere in each individual if a person starts looking at that angle.
Note: Not all WhatsApp admin are leaders! Not every admin is successful in managing the group. A success of a WhatsApp group can be measured with the content and discussion happening in the group. You can ask questions like: Is the purpose of the group still intact? Purpose can expand, Vision can get larger, but it cannot dilute! 🙂 Happy Whatsapping.
Comments
comments
---