Paralysed life of locals in Kashmir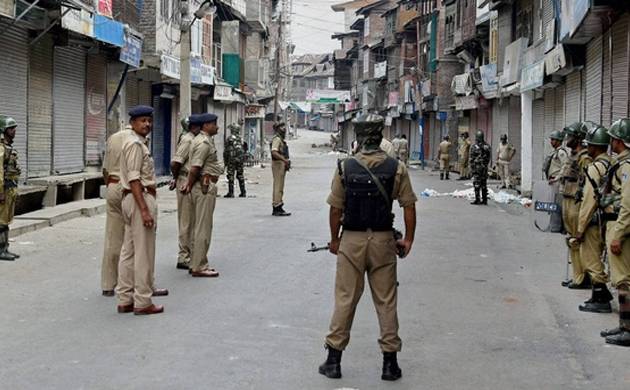 State of Jammu and Kashmir has been in dispute since India's independence. We can say, 70 years of Independence and for this state, 70 years of struggle. Meeting and having conversations with the locals of the areas where disputes are part and parcel of daily life was softening and heart-breaking. It made me feel how blessed we are to deal with city and corporate life instead.
I was in Srinagar for 2 days during this period of curfew. Starting from Sonamarg, when i went to small market here, people were happy to see some customers. Halted at Hotel Akbar in the town of Sonamarg. Hotel owners and staff were kind enough to support their guests to reach the city of Srinagar safely. The owners too travelled together. At Srinagar too, had stayed at Hotel Akbar, near Dal lake. Compared to other parts of Srinagar, this area was safe. Next day, when we went to Dal Lake for Shikara ride, we could chat with the "khivaiya uncle" for some time. He shared how the curfew and forced strike is affecting their life. They are labors – earning for each day, living for each day. Luckily, being in Kashmir they all are used to store food, some money and remain jobless for some months (winter season). This habit of theirs allowed them to survive for almost a month of curfew now. Locals have a family to feed. And when such disputes are taking place, their life is paralyzed. Forget about earning livelihood, with the use of pellet guns, protests, etc they also live in constant fear whether they would reach their home alive or not. Very small number of postpaid connections were in service. Prepaid connections don't work at all. Mobile Internet services continued to remain suspended.
Violent protests rocked Kashmir following killing of Burhan Wani and two of his associated in an encounter with security forces on July 8 in Kokernag area of Anantnag district. Normal life has remained paralyzed in Kashmir on account of separatist sponsored-strike and curfew-like restrictions imposed by authorities.
Hotel owner, Mr. Zaffer Ahmed Boktoo, his partner and his entire staff had been extremely kind. He shared few things with all his guests, of which i missed a lot of his sharing though. He shared a newspaper wherein the entire business community of Kashmir appealed to the Home Minister of India, Mr. Rajnath Singh. Below is the pic of the open letter from a Kashmir local newspaper.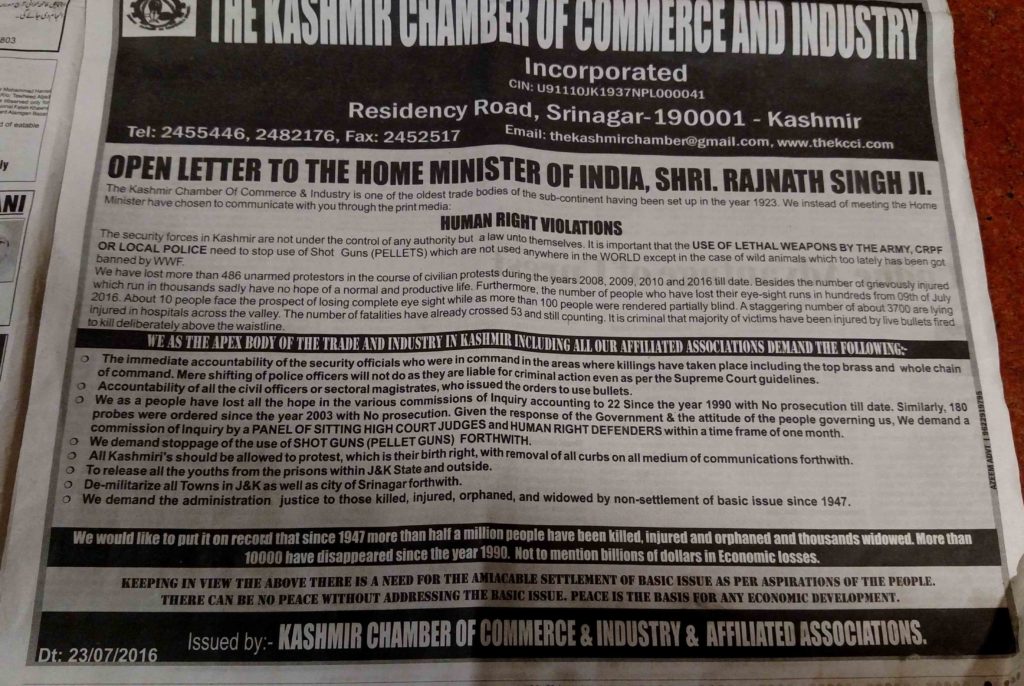 Had been waiting to write this article, did some readings too on pellet guns, some past disputes, reason for this curfew, etc. But they all seemed to be giving practical information, not about the lives of the locals there. Bullets or weapons don't ask people whether they are locals living normal life there or are they terrorists….. I read why pellet guns are used… Normally during protests, police use lathi charge or tear gas, never thought that pellet guns were also used in some part of the world. Then i read, during protests, people throw a bottle of petrol that leads to fire / blasts, that's the reason why pellet guns are used in the protests. Reading everything brought a huge dilemma. But one thing is very clear, locals don't want this. Bureaucrats / politicians twist and turn the situation that is beneficial to them. Why would army or locals need a bloodshed? After reading many articles, i was clear, i don't want to address any of those information in this article but something that's coming from my own experience of 2 days. I ended up buying lot of stuff from srinagar chashmeshai garden and dal lake as we, tourists were only source of income for the locals here and the curfew had struck the daily income and livelihood in quite a hard way.
When will this hell in heaven end? When will J&K see a set of leaders in govt that works for the well-being of its people and the state not for their benefit. I dont believe one thing that media says… "Kashmiris are not integrated with India emotionally" I don't think being a part of India or Pakistan is an issue. Peace is important to them and the freedom and peace that they can get from India might not be same as they may get in Pakistan. The villages acquired by India during the border conflict, mention that they feel happy to a part of India. But i am not talking about India and Pakistan or border… but about the basic right for humans to live safely. Safety and Security are prime issues there. Living a normal life is an issue there. Peace is an issue there. Mean bureaucrats are an issue there. They can easily survive with even 1 year or 5 years of curfew, but what about local labors, small, medium or large scale businesses?
Click Here to know more about pellet guns.
Thank you! to Hotel Akbar owners and staff. 🙂 We all can pray together for the well-being of Kashmir, not just for now, but forever…. that can bring joy in the lives of the people living there.
Below are few more clippings from kashmir local newspaper.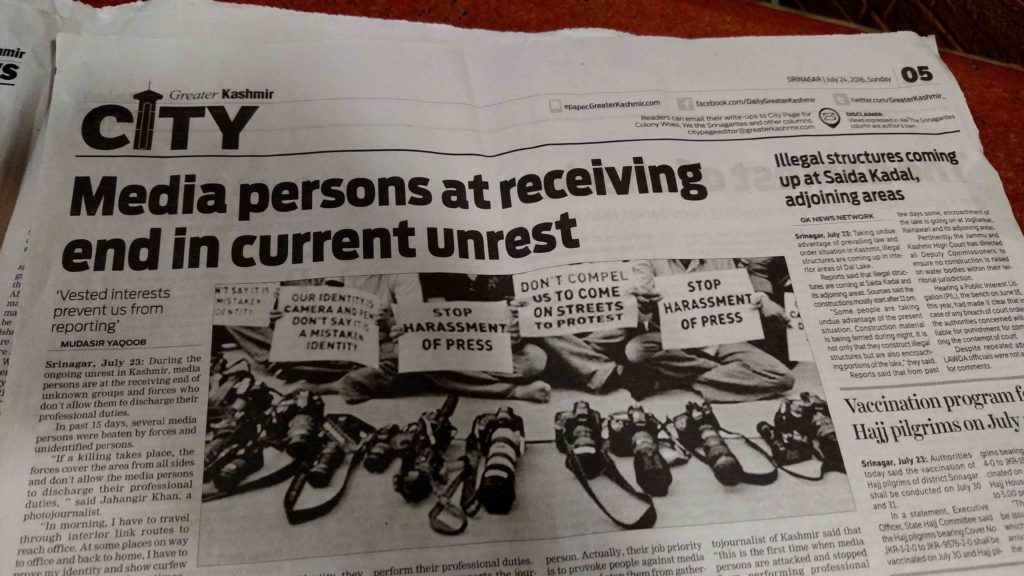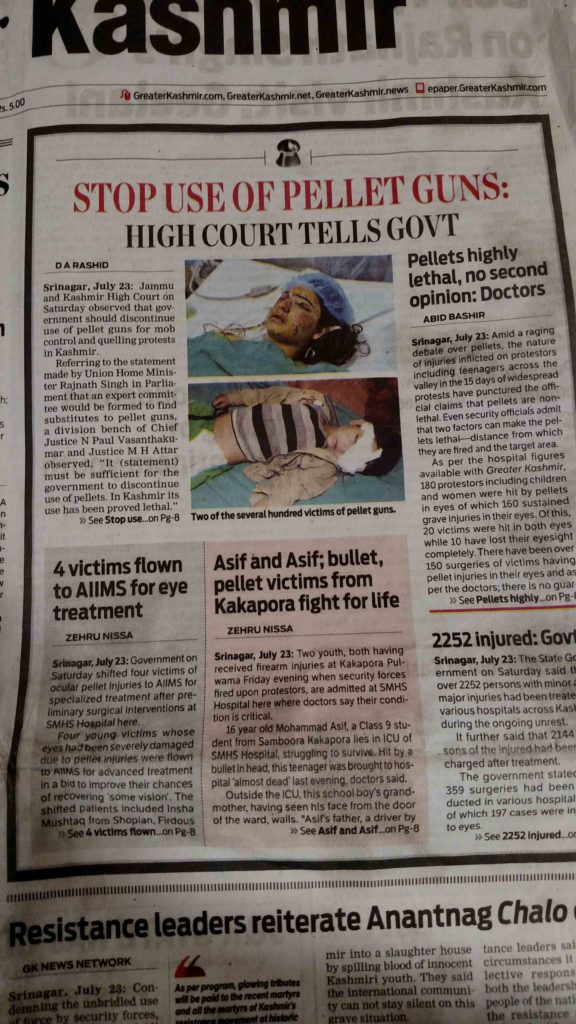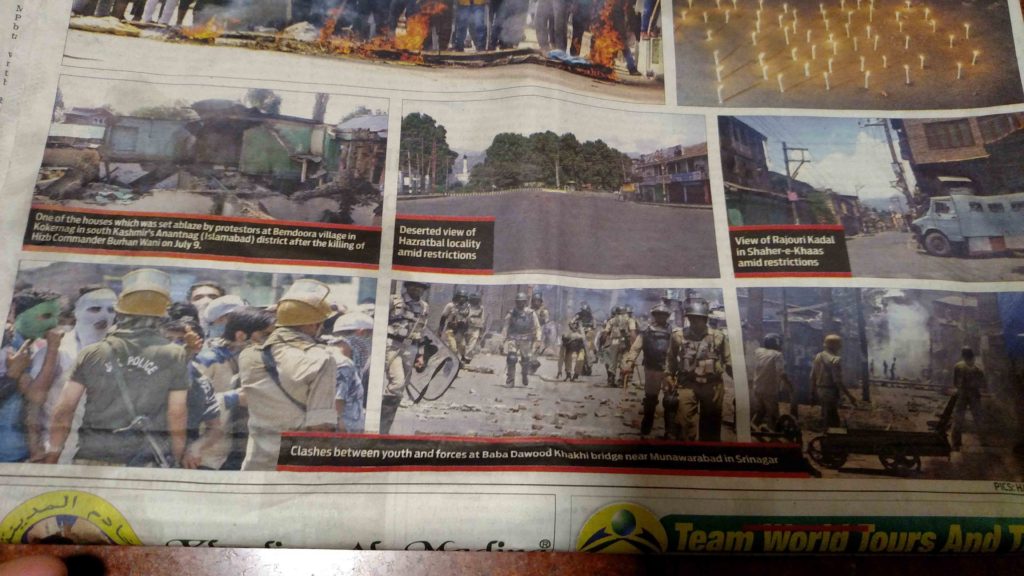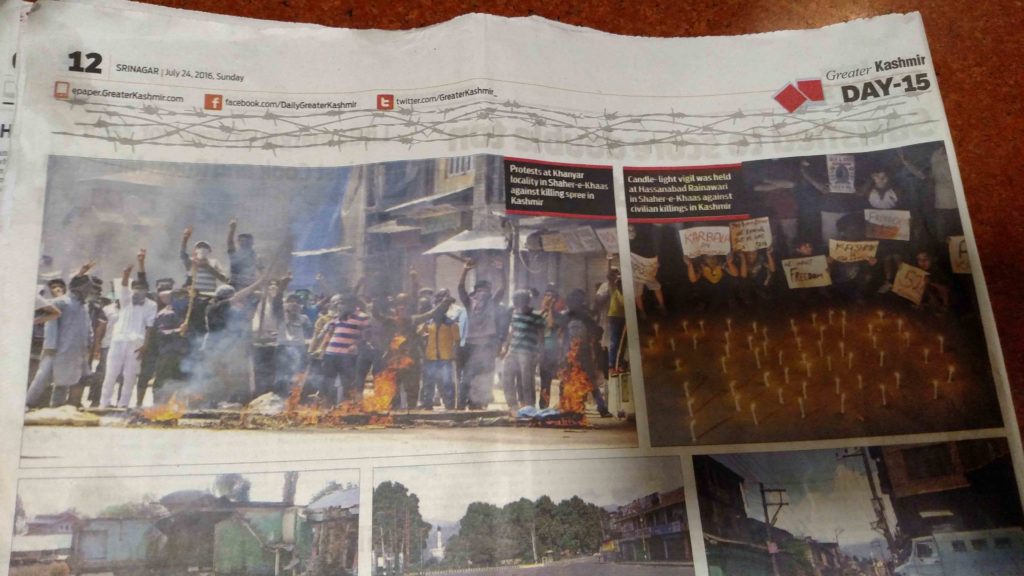 Comments
comments
---