Journey from Bombay to AAMCHI MUMBAI!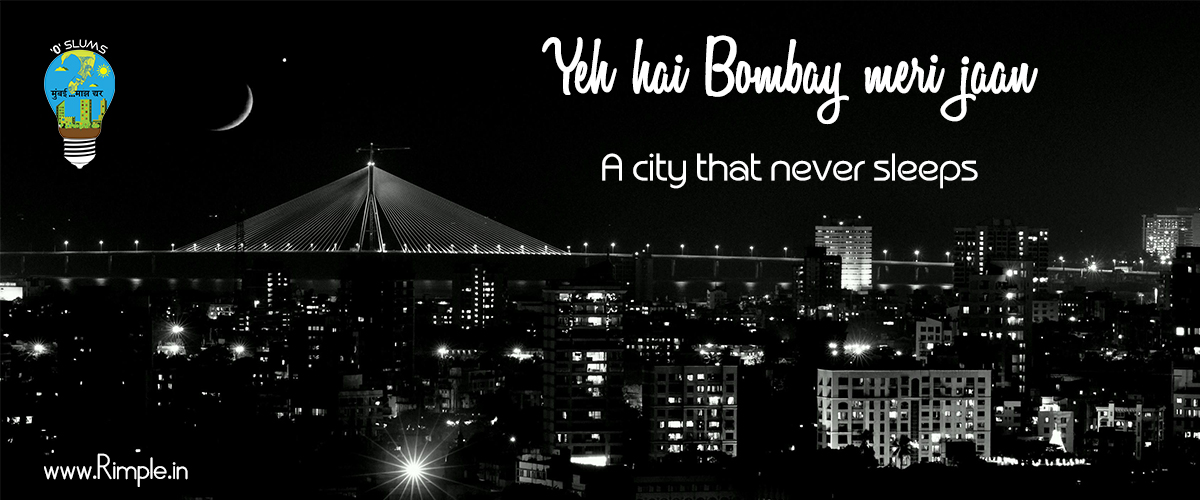 Bombay has no bombs and is a harbor not bay. Today(1st May), in the year 1960, Bombay (now Mumbai) was transformed from a Bombay State to Bombay City and a capital of a newly created state Maharashtra. Life of the present Mumbaikar's is quite different from the early one's.
From Stone Age to Sultan of Gujarat:
Anyone living in Mumbai today knows Colaba, Mazagaon, Mumbadevi, Worli, Parel, Mahim as local places of Mumbai. But, did you know that once upon a time they were 7 independent islands. In fact, Mumbai has its mark since stone age. Later it was a part of Magadhan Empire ruled by the Ashoka Maurya. The empire receded and left the Buddhists monks and Kolis, whose stone Goddess – MumbaiDevi, gave its name to the current alpha city in the year 1995.
Mumbai changed hands many times. After Magadha Empire, islands were ruled by the Silhara Dynasty till the middle of the 13th century. Walkeshwar Temple, Banganga, Elephanta caves probably date from this time – under Silhara patronage.
After Silhara's, King Bhimdev founded his kingdom with "Mahikawati" (Mahim) as its Capital. He was said to be from Anahilavada dynasty of Gujarat. Babulnath Temple was built under his patronage. He brought various communities from Saurashtra and other parts of Gujarat to Mahikawati. Later the islands were wrested by the Muslim rulers of Gujarat. The mosque in mahim probably date from this time.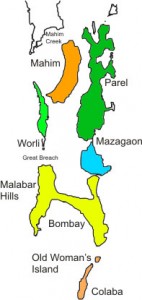 Deliberate Twirl to West:
Portuguese Period:
Portuguese explorer Fransisco de Almeida's ship sailed into the deep natural harbour of the island in 1508, and he called it Bom Bahia (Good Bay).  In 1534, Bahadur shah  was forced to sign the treaty of Bassein (at present – Vasai) with the Portuguese wherein Bassein and seven islands were surrendered to the Portuguese thereby ending the Islamic rule in the city. By this time Portuguese had already possessed west coast areas of Panjim, Daman and Diu. With the treaty, they possessed Bombay and named it as "Bom Bahia" meaning a "Good Bay" in Portuguese.
They built numerous churches at the areas where the major population comprised of Roman Catholics. St. Andrews Church at Bandra is the only church that remains with the Portuguese style facade.  Another church is the St. John the Baptist church built by the Portuguese in Mumbai. located inside SEEPZ, Andheri, which is opened only once in a year at present.
They also built forts at Sion, Mahim, Bandra and Bassien which can still be seen.
Dutch and the British:
In 1580, Spain invaded Portugal territories which opened the way for the Europeans to enter India (Possessed by Portuguese then). The Dutch arrived first, followed by the British. Portuguese had monopoly in trade in the 15th and earth 16th centuries. As a result, Battle of Swally was fought between the British and the Portuguese at Surat at around 1612 for the possession of Bombay(one of the seven islands then). The marriage treaty of British King Charles II and Portuguese Princess Catherine of Braganza in 1661 brought these islands into British as a part of a marriage dowry. Other 6 islands continued to be under Portuguese possession.  British renamed "Bom Bahia" to "Bombay".
In 1668, according to the Royal Charter of 27th March 1668, an agreement between British Empire and East India Company led to the transfer of Bombay(one of the seven islands then) to the British East India Company at an annual rest of £10.
Company then built harbours and warehouses for trade. Customs house was also built. Fortifications were built around Raj Bhavan (formerly Bombay Castle). The second governor of Bombay saw the opportunity to develop islands into a centre of commerce to rival other ports which were still possessed by the local kingdoms then.  Various business incentives were offered which attracted Jews, Armenians, Brahmins, Gujaratis, Bohras and other communities. Population of Bombay rose approx. 6 times more in a period of 5 years. Ship building industry moved to Bombay from Surat.
In 1782, Hornby Vellard engineering project was started by the just assumed Governor of Bomaby – William Hornby to unite the 7 islands into one single landmass. The Bombay was connected to Salsette by a causeway at Sion, Colaba and little Colaba were connected to Bombay, causeway connecting mahim and bandra followed and so on. All 7 islands were merged to form a state of Bombay. Company built infrastructures like railways, Asiatic Society of Bombay (town hall), Elphinstone college, commercial banks, newspapers. All these activities led to the educational and economic progress and overall development of Bombay city. Victoria Terminus station (now CST) was one of the finest stations in the world then.
The concept of Dabbawalas originated during this period. Britishers in Bombay who did not liked the local food, set up the service of dabbawalas to carry lunch to their workplace straight from their home.
Post-Independence Period:
In 1950's there was a demand from the United Maharashra Committee (Sanyukta Maharashtra Samiti) to create a separate Marathi speaking state "Maharashtra" from the state of Bombay with city Bombay (now Mumbai) as its capital.
On 1st May 1960, state of Bombay was portioned into the Marathi speaking state (Maharshatra) and Gujarati speaking state (Gujarat).
In 1995 Bombay was renamed to "Mumbai", after Mumbadevi, a stone goddess of deep-sea fisherman.
Comments
comments
---