Will the map of India change in 2011?
It's been a decade since the last time the map of India changed. Whether it will change again depends on how the central government handles the demand for a separate state of Telangana.
And on that depends whether the map will change again (trifurcating Uttar Pradesh?) and again (bifurcating Maharashtra?) and again (a new state in the north-east?).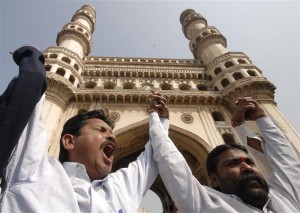 The Srikrishna committee report is to be made public on Jan 6. Media reports suggest it will not take a definite for/against position. Moreover, the panel's terms of reference were focused on Andhra Pradesh.
In the long run, more important than what the govt does with the report is how it goes about creating, rejecting or conceding a new state.
A piecemeal response, depending on how violently a movement garners attention, may only encourage similar politically motivated demands.
There is an argument for a more thought-out, streamlined, reasoned process through a new states reorganisation panel. There are various arguments for and against creating smaller states.
But none of them seem to be clinching in practice, so varied has been the experience of going from 500 plus princely states to the 29 at present.
The creation of Andhra Pradesh in the 1950s set off country-wide state reorganisation based on 'one state, one language'.
But the only thing proven so far is that states created on the basis of language are not inimical to the country's unity as was initially feared.
If a Telangana state is created, it will be a first again.
For the first time, a non-Hindi speaking group — speakers of Telugu — will be broken down into two sub-national political entities.
This, on the face of it, privileges the question of development over identity, like the results of the Bihar elections in 2010.
Can the change in India's internal map mark another beginning? Or will short-term considerations rule?
Comments
comments
---