Indian Hackers Did What Politicians Failed to DO [Response to 26/11 Terrorist Attack]
The Indian government has failed to live up to the citizen's expectation in dealing with 26/11 terrorist attack issue. While government spends crores in keeping the Pakistani gunman Ajmal Kasab safe and sound (he now claims that he was not at all involved in 26/11 attack controversy), a few Indian hackers carried a mass defacement operation against many public and official websites belonging to Pakistan on 26/11/2010.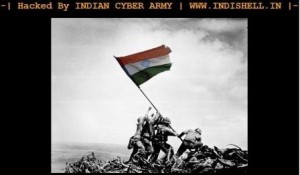 Tagged as Indian Cyber Army (ICA) (powered by indishell.in), these hackers have added a web page + patriotic music to more than 50 official Pakistani websites in order to pay their homage to the martyr of the terrorist incident.
While some of the hacked sites have been restored, you can still see the hack in action on few sites (CONTROLLER GENERAL OF ACCOUNTS OF MINISTRY OF PAKISTAN, NATIONAL ASSEMBLY OF GOVERNMENT OF PAKISTAN).
Comments
comments
---