Indira Feroze Khan or Indira Gandhi?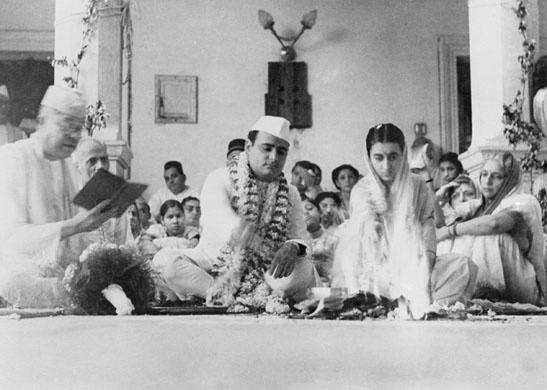 Indira Priyadarshini Nehru married to Feroze Jehangir Gandhi in March 1942 according to Hindu rituals and adopted his surname.
Feroze Gandhi born as Feroze Jehangir Ghandy to a Parsi family at the Tehmulji Nariman Hospital situated in Fort, Bombay, his parents, Faredoon Jehangir Ghandy and Ratimai (formerly Ratimai Commissariat), lived in Nauroji Natakwala Bhawan in Khetwadi Mohalla in Bombay.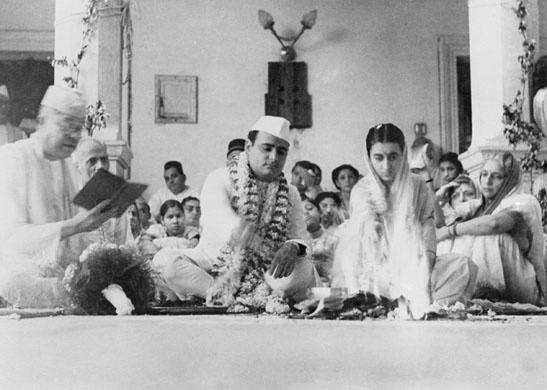 His father Jehangir was a Marine Engineer. Feroze was the youngest of the five children with two brothers Dorab and Faridun Jehangir, and two sisters, Tehmina Kershashp and Aloo Dastur. The family had migrated to Bombay from Bharuch in South Gujarat where their ancestral home, which belonged to his grandfather, still exists in Kotpariwad.
Feroze abandoned his studies in 1930 to join the Indian independence movement. Being inspired by Mahatma Gandhi, Feroze changed the spelling of his surname from "Ghandy" to "Gandhi" after joining the Independence movement.
He was imprisoned in 1930, along with Lal Bahadur Shastri (the 2nd Prime Minister of India), head of Allahabad District Congress Committee, and lodged in Faizabad Jail for nineteen months. Soon after his release, he was involved with the agrarian no-rent campaign in Uttar Pradesh and was imprisoned twice, in 1932 and 1933.
Feroze and Indira were arrested and jailed in August 1942, during the Quit India Movement less than six months after their marriage. Feroze Gandhi was imprisoned for a year in Allahabad's Naini Central Prison.
Post independence Feroze was a member of the provincial parliament (1950–1952), he won independent India's first general elections in 1952, from Rae Bareli constituency in Uttar Pradesh. Feroze soon became a prominent force in his own right, criticizing the government of his father-in-law and beginning a fight against corruption.
Feroze died in 1960 at the Willingdon Hospital (now Dr. Ram Manohar Lohia Hospital), Delhi, after suffering a second heart attack. He was cremated and his ashes interred at the Parsi cemetery in Allahabad.
Comments
comments
---