Eight Avatar of Goddess Durga – GODDESS MAHAGAURI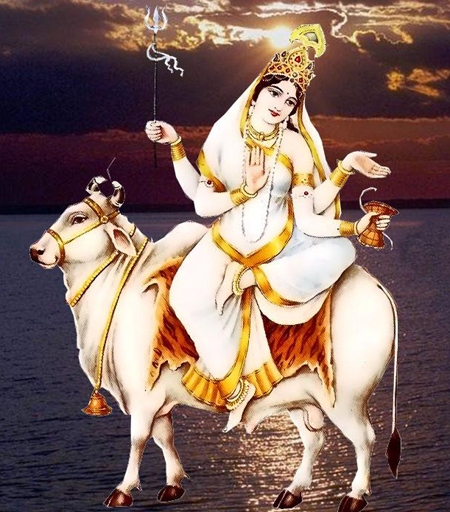 Mahagauri is the beautiful manifestation of Goddess Durga in her eighth form. She is worshiped on the eighth day of Navratri, more commonly known as Ashtami. Being a symbol of purity, serenity and tranquility, Mahagauri is said to put an end to all the suffering of her devotees. It is also believed that Mahagauri is the 16-year-old unmarried form of Goddess Parvati.
When the incitement of demons was so much beyond the limit that even celestial beings were tortured by the evil asuras, gods gathered for finding a solution for this menace and a divine energy in the form of light emerged from them and took the form of goddess Durga. She was the one who manifested in different forms and slain the demons over a period of nine days. This was a great welfare of the entire human race and the gods regained their right over the fruits of the yajnas. The eighth form of goddess Durga is known by the name of mother Gauri by devotees. She incarnated on the eighth day (ashtami) of the Navaratri. She is of very fair complexion as the kunda flowers and a bright moon. She attained the divine beauty by performing a great penance and hence she is known as Maha-Gauri. The goddess is four-handed and holds a trident on the upper right hand and holds the boon-granting gesture in the lower right hand. In the upper left hand, she holds the gesture of fearlessness and a damaru in the lower left hand. She is riding a bull which means that a white bull is her vehicle who is very courageous and an emblem of dharma. Goddess gained the wife hood of great Lord Shiva with her extremely difficult penance and hence she is also popularly known by the names like "Bhavaani" and "Shivaa". By her worship, her devotees can get all their wishes fulfilled. Also, goddess eradicates diseases, fears, pains, obstacles etc. with her divine powers. She constantly blesses her children with happiness.
Mythological story of Goddess Mahagauri
Goddess Mahagauri ensures overall welfare of every devotee. The most famous story about her found in the scriptures is that for getting Lord Shiva as his consort, she performed extreme penance in the deep forest in a very difficult way for many years which was never done by anyone before. As a result, Lord Shiva was pleased with her penance and devotion and asked her to ask for a wish. Goddess immediately expressed her wish to get him as a consort. God said, "be it so". But because of the difficult penance for several years, her body had become very weak and darker. Lord Shiva took some water from his kamandalu and sprinkled over her and she was transformed to a great radiant fair complexion as per the wish of Lord Shiva. Since then she was known as Mahagauri. She is the ultimate shelter of every devotee and an embodiment of prosperity.
Another tale explains the story that goddess Parvati did a stringent penance for getting lord Shiva as her consort. As a result of her long and difficult penance, she was married to Lord Shiva. Once upon a time, Lord Shiva platonically says something to the goddess which she takes in a wrong way and goes to a secluded place and starts the penance. After a long period, lord Shiva himself starts searching her and reaches the place where she is in a deep penance. While performing the penance, her body was illuminated with a bright aura hence Lord Shiva blesses her with extremely fair complexion. Since then she is better known as Maha-Gauri. She is as radiant as the bright moon. This form of the goddess is extremely auspicious.
Comments
comments
---