Gulaab gang and management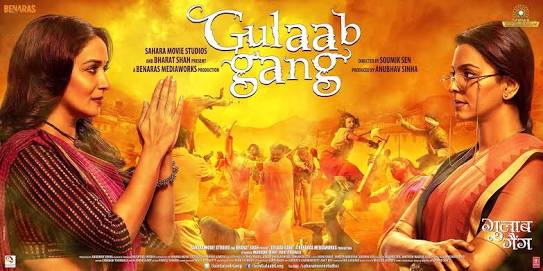 Movies and Cricket are most common form of entertainment in India. Why not learn something from there? I saw movie Gulaab Gang this Sunday(first time), though i missed initial 45 mins of the movie.
Movie had very interesting lessons from the management perspective:
1. "NO" is not no but "Next Option":
When Madhuri and Juhi meet first time, madhuri handovers a letter for justice to which juhi gave a sarcastic answer and rates for the rape victim and mocked at madhuri. Next Easiest thing for madhuri was to beg or move out. But she had next option ready.
2. Be bold to move towards your dream or be a pawn to accomplish someone else's dream:
Scene where juhi offers madhuri to be in her party and be on her side. Madhuri calmly refuses to be on her side and says, "agar election me khade hi hona hai toh aapke under kyun, aapke saamne khadi rahungi" and that creates a new journey of leadership for her. Of she has been leader so far in the movie, but now moving on to next level.
3. Play to your strength not to weaknesses:
When elections rally and promotions are commenced, madhuri plays to her strengths, scene is quite convincing at she promoting herself at a college whereas in fear, threat and survival juhi keeps plotting to bring madhuri and her support system down. Result is already known to people who have seen the movie.
4. Be clear of what you want and be clear when You ask:
Madhuri in entire movie is clear of what she wants… may be the paths keep changing from violence to being a political leader.
Similarly, even juhi is very clear of her goals. When you have clarity of goals, you know what to do, when is the right time and what is the right method.
Like knowing killing madhuri inside the village is threat to her. She is ok if she is killed outside her political boundary. Like madhuri knows that enough of violence for what she wants… she can achieve the goals by being a political leader too.
And so on.
Comments
comments
---